The yearly general assembly of Bayer's shareholders will take place in Bonn on April 28th, ten days after the public presentation of the advisory legal opinion of the five judges from the Monsanto Tribunal in The Hague. It will obviously be related to the merger with the agrochemical American company Monsanto
René Lehnherr, member of the organizing committee, will inform Bayer's shareholders about the conclusions of the International Monsanto Tribunal. He will also ask a few questions to M. Baumann, CEO of Bayer. The panel of international judges presided by the Belgian judge Françoise Tulkens has analysed whether or not Monsanto has acted in conformity with the law applicable in six different areas: right to a healthy environment, right to food, right to the freedom indispensable for scientific research and freedom of expression, complicity in war crimes and ecocide, ie. crimes against the environment.
The legal opinion delivered by the Tribunal shows that Monsanto infringes on the existing law in five areas. The Tribunal also concludes that if such a crime of ecocide were recognized in international criminal law, some activities of Monsanto could possibly constitute a crime of ecocide (Agent Orange). The International Criminal Court has recently announced it would move to the same direction.
The legal opinion is available in several languages on our website.
One next step: the full documentation from the Monsanto Tribunal hearings will be integrated into a global study that will assess the damages caused to the environment by Monsanto in the last 60 years. Long-term damages on nature and health will be especially taken into account. This research will be done under the auspices of renowned economists. Some experts who have already been consulted estimate now that the amount of damages could exceed by far the price of the merger. Such a research would create the basis to set class actions against Monsanto.
Werner Baumann must face this question: in addition to the high acquisition price, will the shareholders accept to prepare provisions to face possible compensations, which could add up to several dozens, or even hundreds of billions? The takeover of Monsanto could become a Trojan horse for Bayer. The Bayer – Monsanto merger will not take place like the Union Carbide and Dow Chemical merger after the Bhopal catastrophe in 1984. Victims and their families are still waiting for compensations.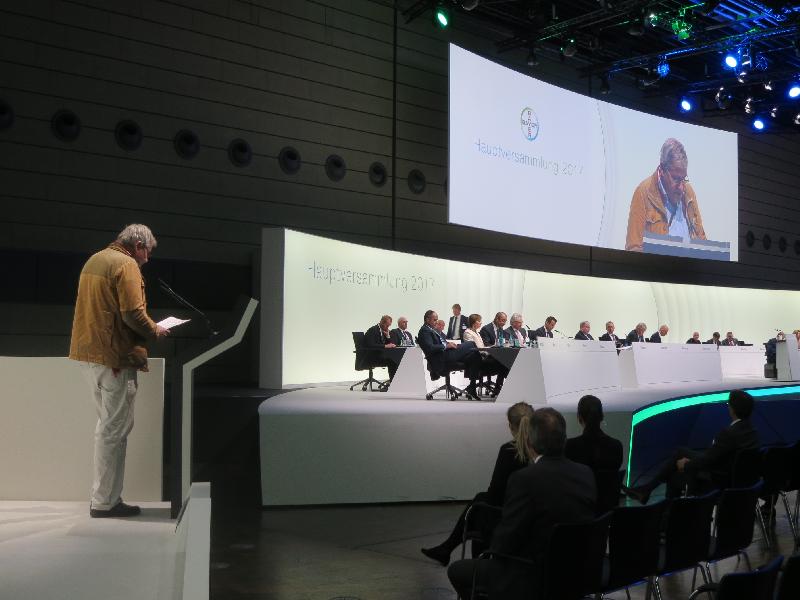 Read here (in German) the questions asked by René Lehnherr, member of the organizing committee.